Largo is very proud to announce that it has been named as a top 100 startup in this year's TOP 100 Swiss Startup Award.
Naturally, given the competition, it is a great honor to receive such an award that recognizes Largo and its AI-assisted filmmaking platform as one of the most exciting business ventures of the year.
All of us at Largo would like to send our greatest appreciation to the jury for recognizing all our hard work and validating the enormous potential of our platform.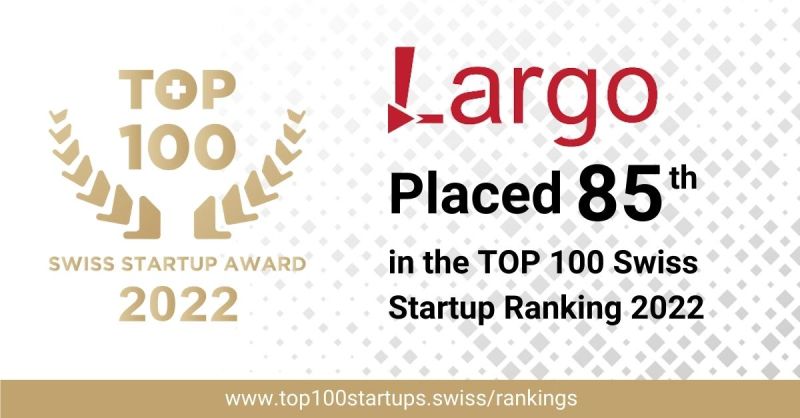 The Swiss Startup Award
Back in 2011, Beat Schillig and Jordi Montserrat decided to create the Swiss Startup Award. It was to be an impartial award that would rank the best and most promising Swiss startups of the year.
Partnering with top companies such as Credit Suisse and Swiss Venture Club, the award ceremony has become a reputable benchmark for startup ranking in Switzerland.
The current program director, Stefan Steiner, has helped bring the Swiss Startup Award to international attention thanks to his tireless efforts. The event has grown into a packed evening with the main awards ceremony being supported by a range of support activities that aim to educate and bring entrepreneurs, journalists, investors, and other professionals together to establish new connections and exchange ideas.
TOP 100 Swiss Startup is now attended by the most promising Swiss startup CEOs, executives, investors, and journalists. The organization is proud to note that the 512 Swiss startups that have been featured in the Top 100 Swiss Startup rankings over the past 12 years have so far created over 16,000 jobs and have raised CHF 11.1 billion in funding. These statistics explain why this award has such a prominent status within the industry and is watched by so many in the world of business.
Startups are reviewed and graded by a panel of 100 expert investors and startup experts. They begin by breaking up into 10 juries before nominating 10 Swiss startups that they believe to be the most promising. To qualify, the company must be less than 5 years old and have great commercial potential.
Points are awarded as follows: 1st place – 10 points, 2nd place – 9 points, 3rd place – 7 points, and so on. After the 10 juries have voted, the total votes are counted and recorded. The startup with the most points gains the top spot with all the remaining startups receiving a place on the top 100 rankings.
The TOP 100 Swiss Startup Award 2022 was supported by partners that included Credit Suisse and SwissVenture Club and gold partners Innosuisse, SIX, and dot.swiss. Additional TOP 100 Startup partners include CantonVaud, Gebert RüfStiftung, Stadt Schlieren, Handelszeitung, PME, startupticker.ch,startup.ch, effekte.ch, Venturelab, Walder Wyss, Venture Kick, and IFJ.
Visit The TOP 100 Swiss Startup Award's website to learn more about the award and to view the complete list of winners. Their web address is www.top100startups.swiss/magazines
There are also several different magazine editions in German, French, English, Chinese, and Japanese.
Largo's Mission Statement
It is Largo's aim to democratize access to the powerful filmmaking tools of tomorrow. Artificial intelligence and big data analytics have already revolutionized the TV and movie-making industries.
From the movie recommendation tools of Netflix and Sofy.tv to the powerful new script analysis tools of AI-assisted moviemaking platforms like Largo.ai, AI has already shaped today's film and TV businesses. However, AI is simply too powerful only to be available to the fortunate few. Without it, smaller TV and movie production companies simply will not be able to compete.
Recognizing this danger, a group of passionate entrepreneurs and AI experts set about creating an AI platform that allows all industry professionals the chance to access the power of AI. Several years on, and many, many thousands of work hours later, Largo.ai launched its very own SaaS platform that allows filmmakers, scriptwriters, directors, producers, and distributors all over the world the chance to analyze their films.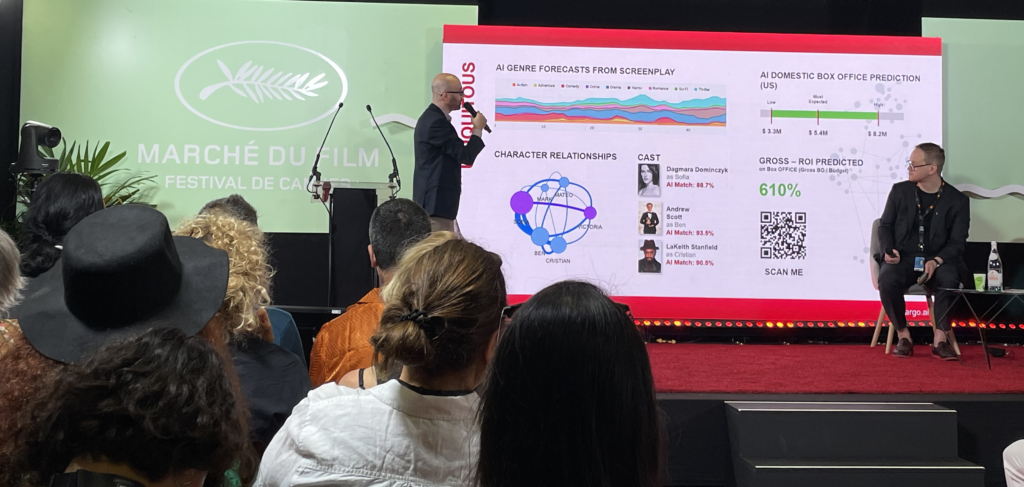 Amazingly, this exciting technology can analyze a film from as early as the script phase, something which means that filmmakers can now get a helping hand from the earliest stages of conception all the way until the final cut.
The whole team at Largo is proud to have reached a point where their efforts are finally paying off and Largo.ai is helping to re-balance the scales so that even the smallest production companies can now play on the same playing field as giants like Netflix and Disney.
We would once again like to say a big thanks to TOP the 100 Swiss Startups for their recognition of our idea and company as one of Switzerland's best and most promising startup companies.
Largo is very proud to announce that it has been named as a top 100 startup in this year's TOP 100 Swiss Startup Award.